Confidence. It makes all the difference. In your attitude, in your experience, in your success. The Bay 20 DLX Tunnel hull boat gives you the confidence you need to challenge shallow water fishing in the remote areas. Areas fished only by determination. Access all of your shallow water adventures with G3 tunnel hull technology and catch the spirit of confidence.
WE STOCK A COMPLETE LINE UP OF G3'S
FROM 10' JONS TO 20' BAY BOATS
Sportsman 1710 – from the custom trailer, upgraded with aluminum wheels to the black metallic or burgundy graphics, it just takes one glance to turn heads. Available in either a fully carpeted model or an easy-care marine-grade vinyl interior, this all-welded, all-aluminum design is set up for fishing success. The huge casting deck allows for more freedom of movement, and the recessed trolling motor foot control adds to performance and comfort. Compare, and prepare to be impressed!
G3 Boats - the BEST value on the water!
G3 jet tunnel hull technology continues to lead the industry in performance and innovation. The console, positioned far forward of the usual location, provides proper weight distribution for shallow draft running. The 29" transom height raises the Yamaha Jet motor above the bottom of the boat, while the tunnel design directs water to the lower unit intake to provide the ultimate in shallow water performance.
---
G3's Angler V series - a complete line of economical, nimble multi-species boats made with big rivers and mid size lakes in mind. The Angler V rigs are great performers with heavy-duty gunnels and spray rails - virtually eliminating flex and adding to YOUR comfort. These rigs incorporate plenty of rod and gear storage and large (52 GAL) lighted livewells for that BIG CATCH !
---
SunCatcher Pontoons are built by G3 Boats in Lebanon, Missouri by experienced boat builders. Many have been designing and refining the quality and craftsmanship of building fishing boats and pontoons for generations.
As a Yamaha Boat Company, the focus on quality is apparent in every level of SunCatcher Pontoons, from the ultra-luxurious Diamond Elite Series to the sophisticated and stylish tri-log Elite Series, to the plush comfort of the X Series, as well as the value built throughout the impressive V Series.
You won't find better built, more family-friendly pontoon boats than SunCatcher, by G3 and Yamaha.
Start making memories today... there is a SunCatcher Pontoon made for you.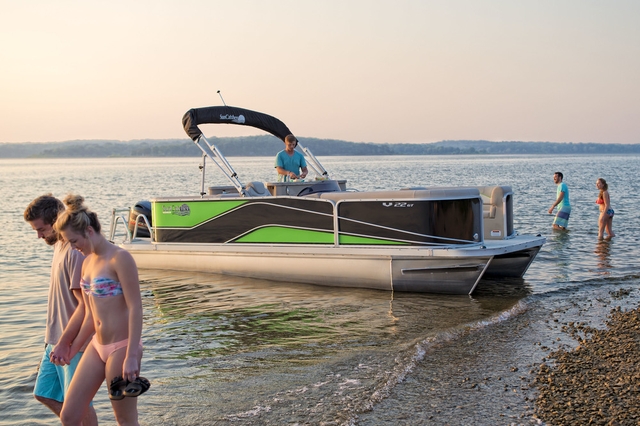 Suncatcher Pontoons... STILL the best VALUE on the WATER !!
SPEND NEXT WEEKEND ON THE WATER !!
email sales@lakesidemarinepa.com for more info !